ATTENTION ALL RABBIT OWNERS!!
We have recently had a number of cases of RVHD2 confirmed at our Caton branch. Unfortunately Rabbit vaccinations are something which are commonly over looked especially if the Rabbit lives indoors. We think it is important to educate why Rabbits need vaccinating, lots of people are aware of Myxomatosis but VHD seems to get forgotten about- this blog should help.
Rabbit Viral Haemorrhagic Disease (VHD) and
Myxomatosis
are diseases found throughout the UK and can be fatal to un-vaccinated rabbits. Both outdoor AND indoor rabbits are at risk. VHD in particular is highly infectious and contagious. It is caused by a calicivirus that can be spread by direct and indirect contact with infected rabbits. The virus can survive in the environment for a long time and can survive cold temperatures far better than you might expect.
How VHD is spread

VHD can be spread by-
Contact of a rabbit with inanimate objects contaminated by the virus such as hay, food bowls, hutches, clothing, shoes and car tires.

Direct contact of a rabbit with an infected rabbit or the faeces of an infected rabbit.

Contact with rabbit products such as fur, meat or wool from infected rabbits.

Insects, birds, and animals such as rodents are known to spread the virus by acting as indirect hosts.

Humans can spread the virus to their rabbits if they have been in contact with infected rabbits.
Symptoms may include:
Loss of appetite

Lethargy

High Fever

Spasms

Sudden death
VHD is often a sudden killer, giving little warning. It has a very short incubation period and many rabbits die within 48 hours. It has a high mortality rate and a large percentage of rabbits exposed to the disease will die. Any rabbits which do survive can shed the virus for at least 42 days perhaps even longer. Rabbits may die without showing any symptoms at all although bleeding from the nose, mouth and rectum is sometimes seen Any sudden rabbit death is suspicious and should be reported to your local vet asap.

How to protect your rabbit?
Vaccinate your rabbits!!
This is the easiest and most trusted way to keep your rabbit safe. A combined vaccination to protect against Myxomatosis and VHD-1 has been commonly used in the UK for many years. A separate second vaccination to protect against VHD-2 is also required. Both vaccinations are necessary to protect against these two different strains of the disease. Vaccinations should be repeated every 12 months to ensure the highest level of protection.
It is thought we are seeing a greater number of deaths in the UK from VHD-2 disease than before. This might reflect the fact that VHD-2 kills rabbits more slowly (seemingly over a 3-day period), giving the disease more time to spread than VHD-1 (which was more likely to kill rabbits before they could pass it on), and so it spreads faster.
These vaccinations can be given from 6 weeks so we would advise you act fairly quickly. Any vaccination appointment at Bay Vets also includes a full health check and we will send annual reminders when the next vaccination is due so it is never missed.

Hygiene is a very important factor in protecting your Rabbit from disease, this Rabbit is taking things to the next level!!
Although vaccination is the safest way of protection you should also take further precautions which include -
Don't forget it isn't only outdoor rabbits that need vaccinations, disease can also be passed on to indoor rabbits.

Wash your hands thoroughly before handling your rabbits, particularly when you come home from places where other rabbits may have been. This would include pet stores, farms, Vets, rescue centres or even Uncle Bob and Wendy the rabbits house!!

Change your clothes and remove and clean shoes after handling or coming in contact with rabbits.

Adopt a "no shoes in the house" policy, or keep your bunnies from running in high traffic areas of your home such as round the front door.

Know your sources of hay and feed and if they are near areas of any outbreaks.

Minimize insects in your home by installing window and door screens. Eliminate mosquitoes and flies from your home.

Quarantine any new rabbit for 5 days. Always handle quarantined rabbits last, and keep all supplies for them separate from your other rabbit's supplies.

To disinfect objects remember that it must stay in contact with the item and remain wet for at least ten minutes. The safest thing to do if your rabbit has come into contact with the VHD virus would be to dispose safely of all contaminated objects and buy brand new. I mean if any rabbit survives they are super bunnies and deserve gold beakers and duck feather pillows.
If you have any concerns or questions please call your local Vet immediately, Thank you for reading and if this saves just one bunny life it will have done its job!!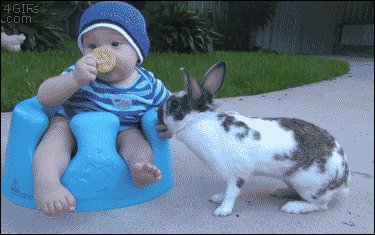 Now Binky Away!!!!

For further information visit the RWAF, click here.

.....Don't forget for the whole of June we will be offering FREE RABBIT HEALTH CHECKS with our bunny friendly nurses as it is Rabbit Awareness Week coming up!!